Vietnamese food was one of the first true 'fusion' cuisines in the world, thanks to the history of the area, with its Indian, Chinese, French, Russian, and American influences. It is also renowned as one of the healthiest foods in the world.
So, while visiting the country, why not learn how to cook your own authentic Vietnamese dishes? Many hotels in Ho Chi Minh City offer cooking classes or you can try the following:
Interested in this tour? Book it here.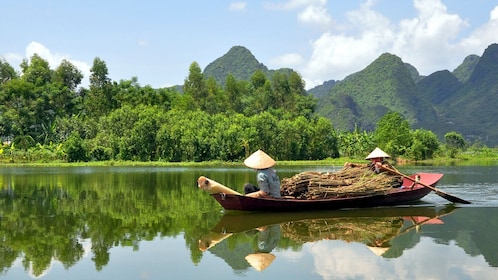 per adult
Free cancellation
Book
Bi Saigon Cooking Classes
Bi Saigon Cooking Classes are held in the Bi Saigon Hotel & Restaurant. Here they teach visitors how to cook a wide variety of traditional Vietnamese recipes. There are no set times for classes. Instead, lessons are organised for individuals and small groups on request.
Address: 185/26 – 185/16 Pham Ngu Lao St, District 1
Tel: +848 836 0678
Hoa Tuc Restaurant Cooking Class
Hands-on cooking classes are offered twice a day at this Vietnamese restaurant which used to be an opium refinery. Hoa Tuc is renowned for its authentic and fusion Vietnamese cuisine.
Location: 74/7 Hai Ba Trung, Dist. 1
Tel: +848 3825 1676
Saigon Culinary Arts Centre
One of the latest additions to the burgeoning cooking schools in Ho Chi Minh City, Saigon Culinary Arts Centre is run by Vietnamese chef Mai, who take guests to the local markets, followed by a cooking demonstration at the well-equipped kitchen at Mai Home Restaurant.
Location: 42/3 Nguyen Van Troi Street - Phu Nhuan District
Tel: +848 3997 9565
Vietnam Cookery Center
Vietnam Cookery Center offers a morning course from 09:30 to 13:00, including lunch, or an afternoon course from 15:30 to 19:30, including dinner. There are also special courses for professional cooks and for children.
Address: 177 Dien Bien Phu, District 1
Tel: +848 823 5872
Rate This Place:
( votes)