Ho Chi Minh Square can be found in the middle of District 1, right in the city centre, and is surrounded by beautiful French colonial style buildings. On this square you will find a statue of Uncle Ho, which was placed to honour the 100th birthday of Ho Chi Minh City People's Committee (City Hall).
The City Hall is a popular place for tourists to take pictures and is especially beautiful around dusk, when many of the landmarks are lit by soft lighting. On the left flank of the square you find the five-star Rex Hotel which is also designed by French architects and was home to International journalists during the Vietnam War. A state of the art shopping mall with all international brands, a food court and some luxury hotel rooms can be found on the right side (also French colonial architecture).
Interested in this tour? Book it here.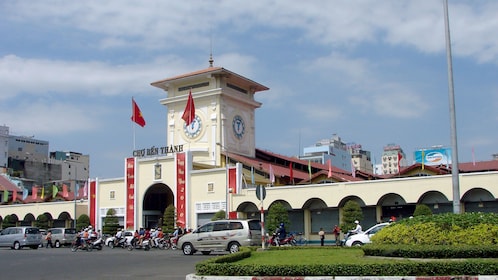 per traveler
Free cancellation
Book
Ho Chi Minh Square is actually part of the walking street of Nguyen Hue Boulevard, which is a broad promenade going all the way from the City Hall to the Saigon River. During the evenings you will have a lighted fountain show on the middle of the Boulevard and you can have a nice, traffic free, stroll over the promenade. Or have a seat on one of the many benches to indulge the city life of the locals.
Rate This Place:
( votes)